Introduction
I take pictures of people being themselves: spontaneous, expressive and idiosyncratic.
My style is documentary, which means that I try to capture the person in the moment, without artifice or self-reflection. I only work on location; Oregon is a very fine studio.
I'm available to take pictures of those dearest to you, enjoying an everyday adventure, or a once in a lifetime celebration.
My aim is to capture the simple joys of being who we are.
I trained at the University of Sussex and the University of Colorado in the nineties and have been snapping away ever since. If you're a Portland area parent, you might like to check out my popular blog, Things to do in Portland with Children.
Current Status
I'm currently taking a break from professional photography to focus my efforts on my full time job and raising my awesome child. I continue to pursue photography as a hobby and, if you're interested, you can follow me on instagram @venusiancat.
Working Philosophy
As a documentary photographer, I try not to be noticed. Almost everyone over the age of say, six years old, becomes a little self-conscious in front of a camera; and for me, this reflexivity breaks the spell. I like to say that my best photos are composed but not posed; and the more swiftly you forget I'm there, the better the results.
Of course, weddings usually demand a few family shots. I'll take them and you'll like them, but I expect you'll enjoy my improvised work a little more.
Oh, I also make exceptions for comic effect. I think that's okay.
Your sense of taste is uniquely your own. Some people love my pictures, others not so much, and it's all good. The important thing to bear in mind is that's what I do. There's literally no point in pointing me at a photo you like from Brides™ Magazine and expecting me to replicate it. Even presupposing I owned a bank of lighting equipment, I had a couple of assistants, a hairdresser and a cosmetologist and that you're a professional model, I have neither the experience nor the desire to do that kind of work.
Almost all of my professional work comes about through word of mouth. I get to pick the jobs I work on, and generally that means working for people I really like and who appreciate what I do.
A Brief History of my Photography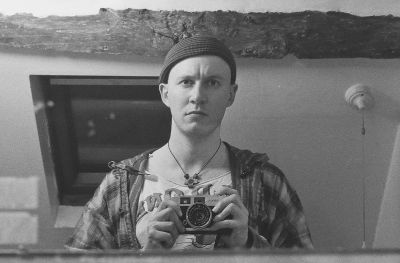 I enjoyed photography as a child, but my interest really stepped up in 1993 when a friend taught me how to develop my own pictures in the college darkroom. I was hooked, spending weeks of my twenties in a basement at the University of Sussex, wrist deep in toxic chemicals, the glow of the red light only accentuating my paranoia as I discovered whether or not I'd correctly fixed my precious / angsty and pretentious pictures.
In 1998 I took photography at the University of Colorado in Boulder. Their darkroom was much bigger, their equipment much newer and I began to absorb all the theory I should have learned to begin with. I took a lot of pictures of children, because my extended family had a superfluity of little ones and taking some nice pictures of them provided me with an opportunity to compensate their parents in a very small way for all the ridiculous hospitality they bestowed upon me.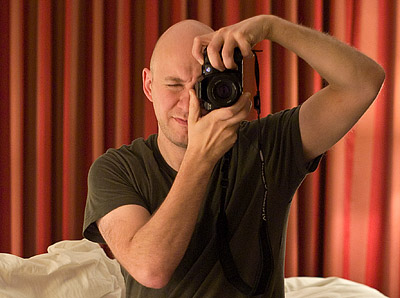 All this time my only photographic tool was a Konica Auto S2 rangefinder, a retirement gift for my father's step-father in 1965 which I was fortunate enough to inherit. Everyone else was running around with auto-focus, matrix-metering SLRs with a motor to wind the film, while I had a 45mm f/1.8 manual focus prime with a not entirely reliable shutter priority mode. Looking back on it, learning the hard way has served me well.